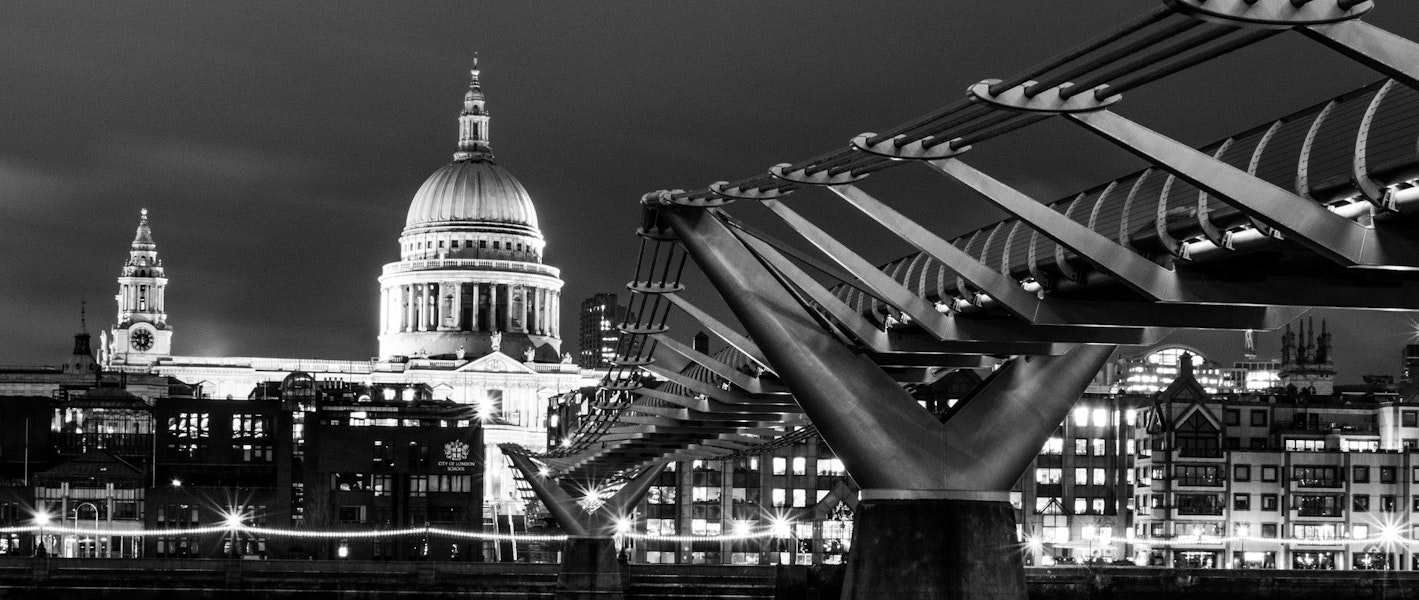 History of the St. Paul's Cathedral Under A Minute
Redesigned and rebuilt by Christopher Wren after the Great Fire of 1666, St. Paul's Cathedral has hosted royal weddings, state funerals, famous burials, and more, making it an indelible part of London's history. Year after year, St Paul's Cathedral welcomes tourists from all over the world sealing its position as one of the most popular attractions in London. They can get a glimpse into the Cathedral's rich history by accessing the five levels of the Cathedral including the Whispering Gallery with its distinctive acoustics and the Stone and Golden Galleries atop the Dome offering magnificent panoramic views over London.
St. Paul's Cathedral History
St. Paul's Cathedral's journey to becoming one of the most awe-inspiring edifices in London has been a long and eventful one. Five different churches were constructed at this site with the first church dedicated to the apostle Paul dating back to 604 AD.
In 962 and then in 1087, fire wrecked the Cathedral, but each time, it was restored and expanded. Soon, it emerged as one of the largest cathedrals in Europe. In the 13th and 14th centuries, more renovations and extensions ensued, and the cathedral expanded further.
However, by 1665, St Paul's Cathedral had started to fall to decay when Christopher Wren put together a plan to renovate it. That was when catastrophe struck in the form of the Great Fire of London in 1666, which destroyed four-fifths of all of London, decimating 13,200 houses and 89 churches, including the St. Paul's Cathedral.
In 1669, Christopher Wren was tasked with the construction of a new church to replace the damaged Gothic cathedral. The church was then built in a relatively short time with its first stone laid on June 21, 1675, and the building completed in 1711.
Today, St Paul's Cathedral, with its rich history and breathtakingly gorgeous architecture, is one of the most sought-after attractions that give you unrivaled views over London.
7 St. Paul's Cathedral Facts You Didn't Know
Deconstructing a St. Paul's Cathedral Tour
Begin your tour by exploring the interior and then ascending to three circular viewing points, the first of which is the Whispering Gallery, whereby a whisper against the wall can be heard even 100 feet away. 
Later, climb to the Stone Gallery before enjoying panoramic views over London at the Golden Gallery. You can feel the history of the ancient cathedral come alive as you visit and explore some of its mesmerizing artifacts and architectural elements. Later, descend to the Crypt, which is filled with tombs and memorials to British heroes.
The best way to explore St Paul's Cathedral is by opting for the skip-the-line tour ticket. This St Paul's Cathedral ticket offers a tour that covers all the important spots across the five levels in this awe-inspiring cathedral, including the Whispering Gallery, Stone Gallery, and Golden Gallery, Crypts. Book in advance to save yourself the hassle of standing in a queue. 
With so much to learn about the history, architecture, and role of this Cathedral, you'll appreciate the excellent multimedia guides included with your admission. And what's more—these are available in English, French, German, Italian, Spanish, Portuguese, Mandarin, Japanese, Korean, British Sign Language (BSL) and English Audio Description (AD), in adult and engaging family formats.
If you prefer a guided tour, then you can avail it at no additional cost. 90-minute guided tours usually start at 10:00 AM, 11:00 AM, 1:00 PM and 2:00 PM with the shorter welcome talks offered around these.